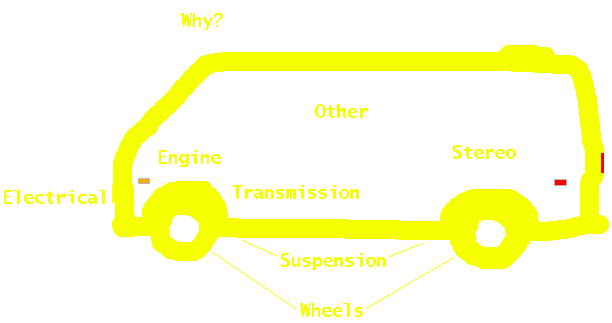 As of January 1999, my van was cleaned out of big speakers and the interior destroyed. Currently rebuilding, this represents its state before.
Stereo System:

Speakers (All sealed):

* 4 Orion XTRIII 15 DVC - 3.66 cu ft each
* 2 Orion Cobalt 12 - 2 cu ft each
* 2 Pioneer 12 - 2 cu ft each
* 8 Pioneer 8 ~ 1 cu ft each
2 Kenwood HQ60 Component Mids/Tweets
2 "Super Bullet" tweeters
2 Motorola piezo tweeters

Amps:

Alpine V12 300 pushing 240 wrms of rear mid (8's and tweeters)
Kenwood KAC921 driving 360 wrms into the four 15's
Rockwood powering 300 wrms into the four 12's
Jensen giving 125 watts of surround to the 6's

Source:

Kenwood KRC-480 Tuner with tape
Kenwood KDC-C603 10 disk changer
Kenwood KGC-6042 10 band, parametric, sub EQ

Needed:

New speakers
A bunch of NHT1259's
Dynaudio 8's soft dome mids and tweets
New boxes and interior
Conversion to "Vanechoic"

* Stolen or damanged.